ISO 22.000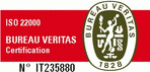 Following audits performed from the famous Bureau Veritas controlling body, we have achieved ISO 22.000 regulation acknowledgement, that, based on international consent and worldwide recognition, balances the requisites for a systematic handling of the food chain safety and grants a univocal solution of good manufacturing practices.
Registration n° IT 235880
ORGANIC

In order to pursue our aim towards a more environmentally friendly world, New Pak has been certified compliant to organic requirements through the important controlling body ICEA. This certification is accredited by both national and international institutions (such as Italian Ministry of Agriculture and Forestry for EC Regulation 834/07) and allows us to deal with all organic products with the necessary know-how and security.
Registration n° IT BIO ICA H2132
FAIRTRADE

Fairtrade is the warranty trademark of solidarity and fair trade markets par excellence.
The aim of this group is to help producers and workers move from a position of vulnerability to security and economic self-sufficiency and to achieve greater equity in international trade.
Therefore, the certification in our possession implies ethical codes in which we believe.
License n° 26491