Glue-Free filter bag.
Pyramidal tea bags are 3D triangular pyramid shaped filter bags which can contain big leaf teas and infusions with pieces of fruits and/or flowers.
Thanks to the unique transparency and special mesh of the material, this type of tea bag has a great visual and olfactory impact on the consumer who, appealed to the wide color variety and to the perfumed aromas of the sachet can abandon to his senses for reaching a high tea tasting pleasure.
Furthermore the pyramidal tea bag permits to personally verify the infusion process and to directly see the hot water effect on the blend.
This type of tea bag can be produced with or without a string and tag, in a transparent nylon, non-woven fabric or biodegradable PLA-SOILON.
For the manufacturin of these pyramidal filter bags no glues are used.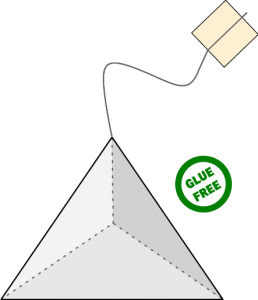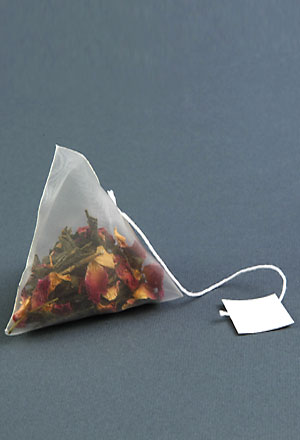 Packaging options
Step 1 – Choice of filter bag
The first step towards the realization of a carton of tea is the choice of the filter. Pyramid-shape filter bags are the best choice if you wish to maintain intact the leaves or the flowers of infusions and herbal teas. The shape of the filter keeps intact its content, that remains visible to the customer during the infusion.
Step 2 – Heatsealed outer envelope aroma-safe
The second step is to cover the bag with a sealed overwrapping typically printed and customized with graphics of the product to be displayed individually (think of the bars and hotels). The overwrapping sealed, although not mandatory, provides great convenience, greater retention of the aroma in time and a safe protection and food hygiene.
Step 3 – Packing in cartons
The third step is the arrangement of bags, with or without overwrapping, in the carton, you can use cardboard boxes, jars or plastic bags.
Step 4 – Packaging and logistics
The fourth step consists in the insertion of cartons in master cartons suitable for the handling of the product in stock and for the shipment to stores or supermarkets. The arrangement of the master carton is mostly done by hand. It is also available a labeling service with ink-jet printing for customized shipping labels and batch reports.